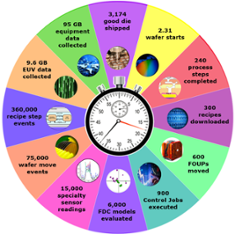 It's time for another episode in our Giga Factory Minute series... And in keeping with the theme of moving around the clock, we see that the focus of this month is "process steps completed." However, rather than focus on manufacturing processes, we'll use this opportunity to highlight an important industry process that is underway. Specifically, I'm referring to the role that the automotive market has in quite literally "driving" important segments of the semiconductor and electronics industries. Even as portions of the industry forecast a slowdown over the next 6-9 months, those in the automotive sectors are busier than ever.
From a wafer fab standpoint, one of the biggest news items over the past 6 months has been announcement, groundbreaking, and construction of a new facility in Dresden, namely the Bosch RB 300 wafer fab. The automation aspects of this factory were featured in a very engaging presentation by Otto Graf (Managing Director, Robert Bosch Semiconductor Manufacturing Dresden GmbH) at the recent Innovationsforum for Automation in Dresden, Germany.
A modern automobile is brimming with electronics, as you can see from the systems highlighted in the figure below. (Image courtesy of chipsetc.com)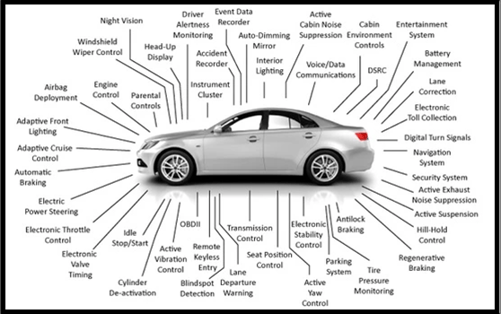 Every function in a car, from engine control to seating to headlamps to collision avoidance is getting smarter… and this is a welcome sight for the scores of companies that provide the components that realize these functions.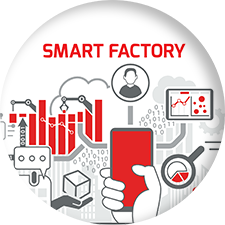 But the full impact of automotive electronics includes all the infrastructure technologies external to the car, such as 5G telecommunications, "smart" roads and traffic signals, routing and congestion management systems for major cities, satellite systems that provide GPS information, entertainment content providers for the non-drivers, and law enforcement, just to name a few. And as driverless cars approach commercial feasibility, the scope and importance of these systems increase significantly.

In this context, anyone who thinks the "good old days" of the semiconductor and electronics industries are behind us isn't paying attention -- so buckle up and prepare to enjoy the ride!
If your company plays a role in the manufacturing aspects of this exciting market, and you are struggling with how to address the equipment control and connectivity challenges you face, give us a call. We've got people who can help you make sense of it all, and products that can transform your problems into solutions.