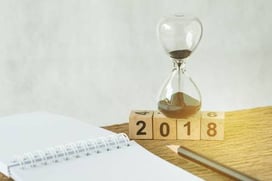 It's getting close to the end of 2018 and we thought it was a good time to look back over our year and think about the many things Cimetrix has done. We are really proud of our team, which spans the globe, their hard work and accomplishments throughout the year.
Tradeshows and Events
Our team attended, presented and exhibited at more than 25 events this year. These events covered the U.S., Europe, China, Taiwan, Japan, Korea, Southeast Asia and more. SEMICON West was a flagship event for us, as we took a large team to support two distinct booth areas. These included SEMI's inaugural Smart Manufacturing Pavilion, where both Alan Weber and Ranjan Chatterjee spoke. You can review this event in the following three blog posts:
SEMICON West Pre-show
Alan Weber's Smart Manufacturing Pavilion speech
Brian Rubow's SEMICON West SEMI Standards meetings wrap-up
---
SECS/GEM Series
One of our longest series was also one of our most popular ever! It covers the major features and benefits of the GEM standard. Each post was written by one of our engineers who is an expert in the topic. You can review the entire series or select a particular topic you are most interested in learning more about.
---
International Offices
Cimetrix has been extremely active this year, and one of the most exciting areas was the opening and/or expansion of several offices in Asia. In February we announced the opening of Shanghai, China office. This blog post is one of several bi-lingual posts we published during 2018 and was one of our most viewed. Learn more about our efforts in China now!
Cimetrix International, Inc., China; 矽美科国际有限公司,中国
---
Cimetrix Team Members
We have run a Meet Our Team series for over a year, and this is consistently one of our most viewed blog series. Everyone loves getting to know the faces behind the company, and we likewise enjoy introducing our team to the world. You can see all of our Meet Our Team posts at the link below and be sure to stay tuned, because our team is growing, and we will continue to introduce them in this series!
---
And finally, we can't have a year-end wrap-up without our most popular blog of the year...
Gigafab Minute
In October of this year, Alan Weber, our Cimetrix V.P. of New Product Innovations introduced the world to the Gigafab Minute infographic. This blog was picked up and re-posted by SEMI and passed around by some of the most influential leaders in the semiconductor industry. If you haven't seen it yet, we'd encourage you to take a few minutes to read it and leave us your comments!
The Gigafab Minute and SEMI Standards: A Modern Miracle
Take a chance to peruse our posts and remember, you can always stay up-to-date by subscribing to our blog!