by Rob Schreck
Marketing Manager
If you are interested in learning more about the SEMI EDA/Interface A factory connectivity standard, you can look at our EDA/Interface A web page, or download our white paper. But - if you are going to attend the SEMICON West event in San Francisco, July 10-12, 2012, at the Moscone Center - you can also visit us at Booth #1241 and hear about how we can support your requirements.
So many people have questions regarding EDA/Interface A standards and how to implement them. Freeze Version I, Freeze Version II, common metadata, MCA, 5002B – it seems like a confusing array of issues, numbers and acronyms. Cimetrix can guide you through the process faster and with less risk than any alternative.
For example, if you are developing a new system that needs to implement an EDA connection, come by our booth to see a demonstration of our CIMPortal software. We will show you how it can guide you as you set up the equipment model, the basic element in an EDA solution. For example, below is an example of how a designer can browse the E120/E125 structure of the equipment model using the E125 web services APIs.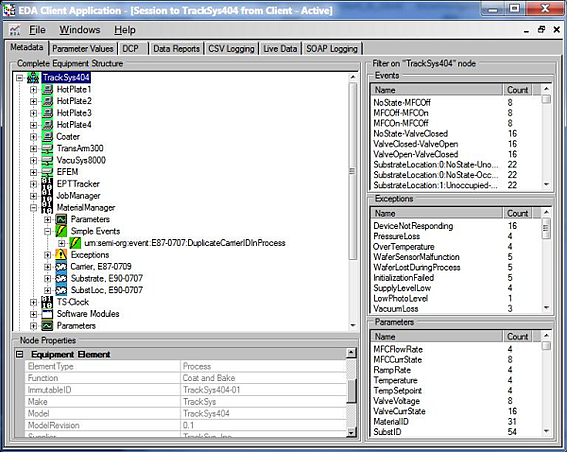 Equipment Metadata Browsing
We can also discuss what it takes to get your equipment ready to be accepted at the fab, and how you can work with the fab to pass their acceptance tests.
If you work at a semiconductor fab, come by and talk with us about how you can use this SEMI standard to stay competitive and increase productivity while decreasing costs. Let's talk about common metadata and how that can make it easier for you to access the data available through EDA. We can also discuss the challenges of dealing with different equipment models and garnering consistent data to analyze equipment processes. We can tell you our experience of working with semiconductor fabs to implement EDA and establishing acceptance criteria for the interface. If you would like, we can demonstrate our EDAConnect software that enables you to set up your EDA connection to the equipment.
We can discuss our product support and training classes that will help get your team up and running on the standard and the implementation process.