Cimetrix participated in the recent European Advanced Process Control and Manufacturing (apc|m) Conference, along with more than 130 control professionals across the European and global semiconductor manufacturing industry. The conference was held in Reutlingen, Germany, a picturesque city of stone and half-timber buildings just south of Stuttgart.

This conference, now in its 16th year, is one of only a few global events dedicated to the domain of semiconductor process control and directly supporting technologies. The conference's attendance this year was comparable in numbers and demographics to that of the previous two years, a clear indication that this area continues to hold keen interest for the European high-tech manufacturing community. Another highlight this year was the sponsorship of Bosch, a relative newcomer to the conference but a pillar of the German manufacturing industry. Reutlingen is home to Bosch's automotive electronics division and its related semiconductor manufacturing facilities, so they were very well represented in the conference and excellent hosts!
Cimetrix was privileged to make two presentations at this year's conference. The first was entitled "Data Fusion at the Source: Standards and Technologies for Seamless Sensor Integration," authored and delivered by myself. The external sensor integration and related data unification topics have enjoyed increasing interest over the past year, and even though the techniques outlined in the presentation leverage the latest versions of the Equipment Data Acquisition (EDA)/Interface A standards, they apply equally well for the 200mm manufacturing nodes prevalent in European wafer fabs and assembly/test factories. The solution architecture is shown in the slide below, but for the background and rationale behind this approach, feel free to download a copy of the entire presentation from our website by clicking on the link below.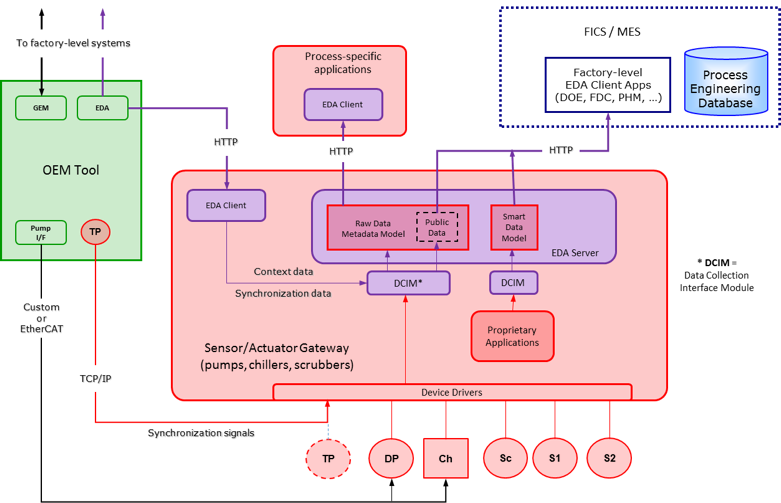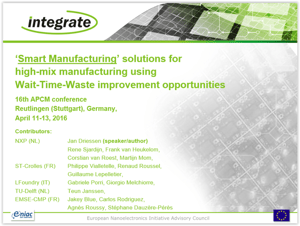 The second presentation, entitled "'Smart Manufacturing' solutions for high-mix manufacturing using Wait-Time-Waste improvement opportunities" was authored by Jan Driessen, a Principal Industrial Engineer with NXP Semiconductor in the Netherlands. It summarized the work of a project team from six companies and as many countries, and funded by the European Union's "integrate" program (cover page is on the left). Because of an unexpected work conflict during the conference, however, Jan was unable to attend, and, based on our companies' shared interest in the Wait-Time-Waste technology and standards over the past several years, he thought that Cimetrix would be well qualified to give his presentation. I willingly agreed, worked with Jan to make sure I understood the latest material, and made the presentation. It essentially makes a compelling case for using equipment event data in a legacy 200mm fab to improve OEE, operational effectiveness, and factory capacity through a "chain of data operations" paradigm that he explains in some detail. The good news for 300mm fabs is that these same results can even more readily be achieved, because the availability and fidelity of the event data is much higher, especially if the fab has a full GEM300/EDA E164-compliant system infrastructure. For more information, request a copy of this presentation directly from Jan Driessen at jan.p.driessen@nxp.com.
Other themes that were evident at the conference included 1) applications of APC and supporting metrology techniques for structures found in smart sensors, MEMS devices, LEDs, and other semiconductor products outside the traditional processor and memory segments; 2) increasing emphasis on equipment data collection in the back end to support productivity monitoring and control applications; 3) unit process control for a number of equipment types; and 4) an entire session devoted to industrial engineering topics.
As with other similar conferences around the globe, the takeaway for Cimetrix is that "Smart Manufacturing," Industrie 4.0, the Industrial Internet of Things (IIoT), advanced process control and fault detection applications, "big data" analytics, and a host of other high-tech manufacturing technologies all depend on the ability to get the right data at the right time from the right sources on the factory floor, and then make it available wherever and whenever needed… For more information about how Cimetrix's product families that directly address this "sweet spot," please contact us.♦